A while back I reviewed Dierks-Bentley's CD Modern Day Driffter. I am such a huge fan of this guy what more can I say. This is not trance - pop - rock it is pure country music.
He has a new CD out called "Long Trip Alone"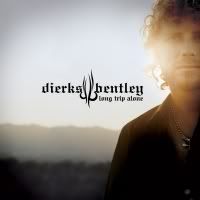 Trackview:
01. Every Mile A Memory
02. Can't Live It Down
03. Long Trip Alone
04. That Don't Make It Easy Loving Me
05. Soon As You Can
06. Trying To Stop Your Leaving
07. Hope For Me Yet
08. The Heaven I'm Headed To
09. Free And Easy Down The Road I Go
10. Band Of Brothers
11. Prodigal Son's Prayer (featuring The Grascals)
Please check out his music :)
CHECK OUT OUR ENTRY ON DIERKS!
ON THE 3/14/2006!
DIERKS BENTLEY ROCKS!